Skip to Content
Meet Your New Best Friend: Pajama Sweets Pistachio Brittle
It happens every time. Whenever people sample our flagship candy, Pistachio Brittle, their eyes instantly light up. Their taste buds have just made a new best friend.
Pistachio Brittle tastes exotic, yet familiar. Relish the oversized brittle cookies' savory pistachios, and then enjoy the notes of saffron, cardamom, and buttery goodness. "It's delicious and different" — that's something we hear a lot. And Pistachio Brittle is incredibly addictive.
Go ahead, snap off a piece. Then try to eat just one.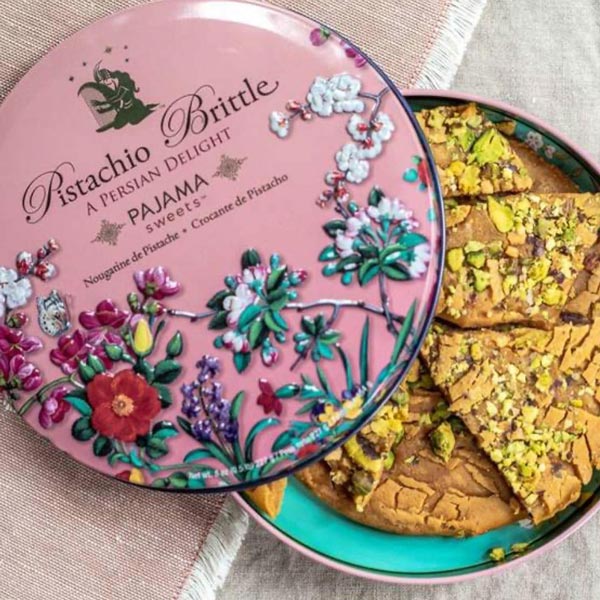 But It's Not Quite "Brittle"
You're right. It's not quite as brittle as peanut brittle, it's not quite as crunchy as toffee. Pistachio Brittle is somewhere between the two — and its own thing. Want to call it "broffee"? Or "trittle"? Sure, why not?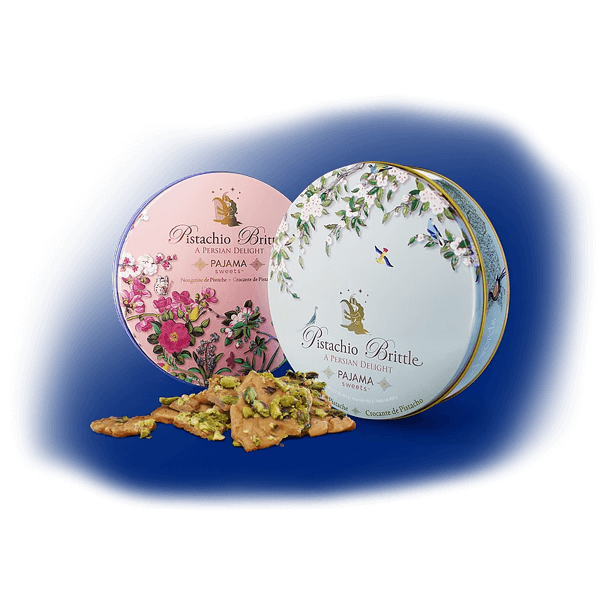 But Really, What Makes Pajama Sweets' Pistachio Brittle Taste So Good?
Simple. It's all in the ingredients: pistachios, saffron, cardamom, sprouted wheat, … And a little butter always makes everything better. Quality isn't cheap: Ounce for ounce, saffron costs more than gold. But great quality delivers great taste. And those ingredients are all-natural. No GMOs, no preservatives, no artificial colors or flavors, and no trans fats.
Worried about the sugar? Don't be. One of the raves we most often hear about Pistachio Brittle is that it's not too sweet. It strikes a delicate savory-sweet balance.
Who Invented Pistachio Brittle?
There's an old legend that a Persian villager concocted the recipe to ease a grouchy king's tummy ache. Ever since the brittle could be found inside every Persian king's pantry — and on every citizen's coffee table. (We can't claim medicinal value, but that villager was on to something).
Wait – Pistachio Brittle With Wine?
Pistachio Brittle pairs perfectly with hot tea, coffee — and yes, wine. Is it the savory pistachios? Is the sweet playing off the wine's acidity? Or is the cardamom adding a sprinkle of spice to your vino? Whatever it is, it works.
Good Thoughts Good Words Good Deeds