Skip to Content
Searching for a Gift That's Delicious,
Beautiful, Unique?
Meet Your New Best Friend
Pistachio Brittle boasts the delicious, time-honored Persian flavors of pistachios, saffron, and cardamom. They all come together in an oversized butter cookie combined with toffee-brittle, and presented in lovingly designed tins. A nifty gift for any occasion.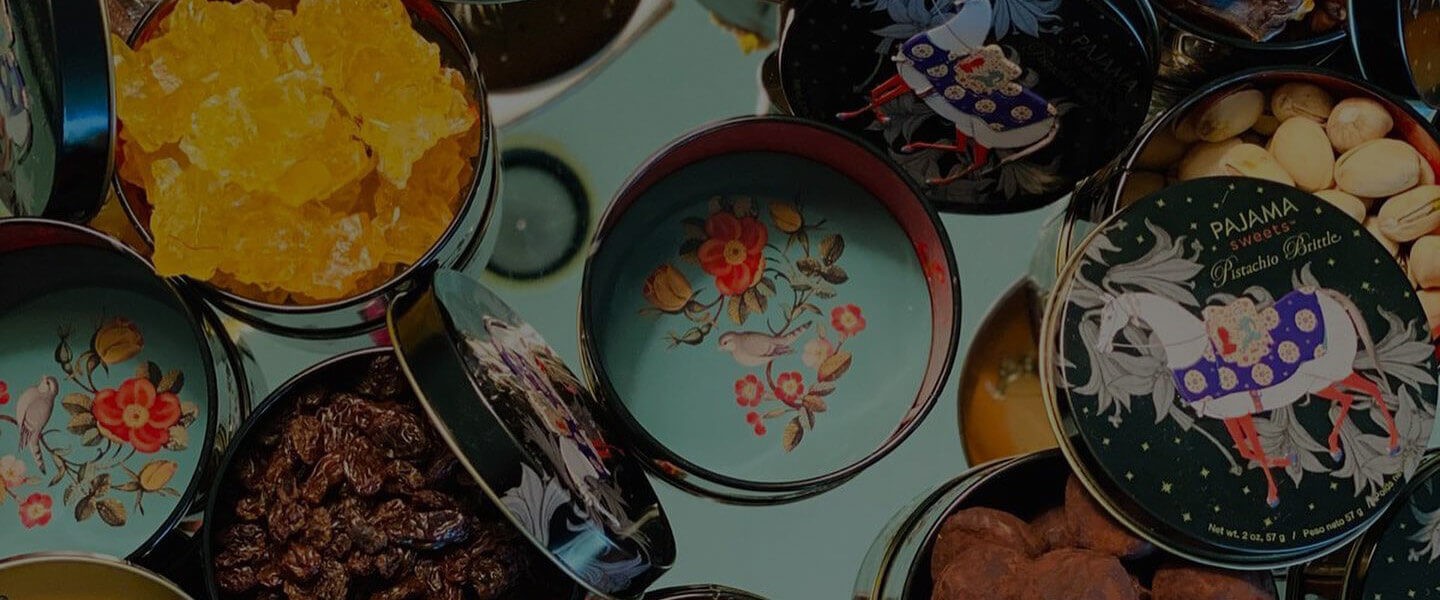 Good Thoughts Good Words Good Deeds
Customer Reviews
I can proudly declare that I have been one of the first customers and probably the first Italian customer of Pajama Sweets. The taste was amazing and the box even more, so much that my mother used it to keep her precious family objects.
If I could give this company 10 stars I would! Not only is the Persian brittle beyond delicious but the amount of care and details that goes into packaging from the tin to the tissue wrapping is gorgeous. The shipment always arrives much faster than expected and I have bought a ton as a gift for everyone I know! Finally a company that actually puts heart in their products!!!
The sweets are very light and crispy. It has a potato chip crunch and a smooth texture. They are very buttery in flavor but not greasy. It is creamy, and rich in flavor without the sticky sweet heavy cream. This is a great gift to give during the holidays instead of those coconut and butter heavy cookies in the blue tins. This tin is reusable and is very pretty. The brittle is individually wrapped so it is easy to share with friends (if you don't eat it all first).
I saw this Pistachio Brittle at a coffee shop when I was traveling in Texas for work. The tin was so beautiful (even better in person) and the staff said it was delicious, so I promptly purchased two tins to give as gifts. My mom, who rarely eats dessert, loved the unique flavor of these sweets. And my grandpa loved his tin so much, I just re-ordered this via Amazon for his upcoming birthday. Having never tasted anything like this before, I highly recommend this product to anyone! It makes a lovely gift - just remember to buy some for yourself!
We'd Love to Hear From You!
Mailing Address
44 Elm St, Unit 1
Huntington, NY 11743
Email: hello@pajamasweets.com